Normal order in animation pre-production phase is "Scenario -> Storyboard -> Videoboard". However, when I do this music video style animation I work on videoboard first to fit the animation to the music.

Thumbnail : a phase before storyboard, it sets basic storyline.
To use pop music with animation like "There she is!!", it is really tricky job to arrange each cuts to fit the music. Time that I can use for each cuts is really limited and few so I have to change scenario several times. I changed scenario 12 times in "another step". Now I'm working on 13th and this might be the final.

Video board : you can check most elements about directing in here such as length of cuts, character acting and camera work.
By the way, I think this music video style animation is great practice for rookie animation students. Music takes a big part on mood setting so you don't have to worry too much about it, and like I said before running time is very limited so you can learn which part should be remained and which part shouldn't. I think it will be fun to make small workshop about this after finish current project.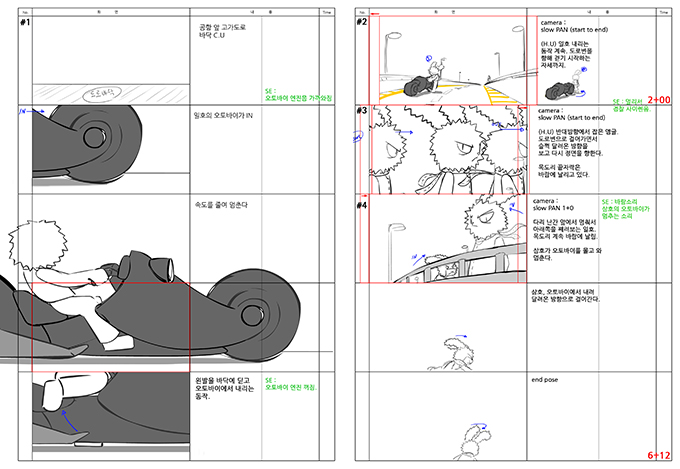 Story board : It's like bluprint. This will be reviewed many times in every phase so you can save time and effort if you make this well.
The storyboard for "another step" is now only about 30 seconds left. I won't change scenario anymore so I think this will be done in end of May. There will be a big festival in the street which SamBakZa open studio is located, so it is delayed to prepare that festival.
After storyboard is done, I should find partner who can help setting and producing work. Then I can start working on full scale. That might took about 6~7 months so including additional video and perk items I think I might be able to finish this project and send packages to you all at the end of this year.
Indemand on indiegogo campaign will be closed at April 30 in Korea (UTC+09:00). Thank you so much to all who joined additional campaign.